Home | Pioneers | Contact Us | Copyright/Disclaimer
---
Vardy Sheehan
Crackenback
c1850
---
Thomas Sheehan
Submitted by Maureen Clunne, on behalf of Bill Guthrie <superbwren-at-unwired-com-au>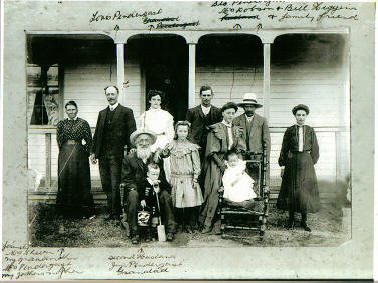 Left to right, back row: Matilda Pendergast, formerly Sheehan, nee Rouse standing beside one of her sons, Louis Pendergast; Left to right, front row: (sitting in chair) James (Jim) Pendergast, Matilda's second husband; (standing behind rocker is) Mrs Florence Matilda Dobinson & behind her is, Bill Higgins & family friend. Identity of others unknown. Source: As written on Photo by Mrs Guthrie, mother of William (Bill) Guthrie.
Note: Photo & family screeds by Bill Guthrie with his permission to send to you. Added by me was parents names & date/place of birth of Thomas Sheehan & 'aka Reeves' to Matilda Jane Rouse.
Matilda's sister Emily was married to John King.

Submitted by Maureen Clunne, on behalf of Bill Guthrie <superbwren-at-unwired-com-au>
---
John Higgins half brother of Thomas Sheehan
Thomas was a younger half sibling of John Higgins. John 'known also as Sheehan', resided at Cottage Creek Manaroo in 1852 when he married Josephine O'Riley/O'Reilly, of Wollondibby, Manaroo, They later went to Omeo.
John Higgins' history post 1852, at Omeo is well researched by Kevin & Ann Galway, (they knew little of his background prior to this) & it is available to anyone from the Omeo family history Society. They were not aware of John's Date of Birth, (1823/25 Windsor) nor his parents names, (Samuel & Mary Higgins nee Kelleher) and had his age as being born in 1814, but they did a great job...it's interesting to note that their research includes that 'William Henry Higgins' son of John Jnr. married Ellen Murphy, daughter of John Murphy…see Bill Higgins in photo. (Ellen & William were half relatives)
When Bridget Sheehan, younger sister of Thomas, half sister of John was baptised (1828 Windsor) Jane (Williams) Pendergast, was her sponsor.
The full identity of the above only came about through my research which I finally 'cracked' back in 1997 whereby I connected them all (there is lots more!). In the book 'To the Omeo Plains' it mentions John Higgins aka Sheehan, as one of the managers of properties owned by James McFarlane. Chapter 4, 'McFarlane and De Graves' it mentions that it was 1835 when McFarlane saw the plains & the next year when he went back. It gives the impression that he left John there with the aborigines as early as 1836...on the run South of the Morass and Sandy Creeks and Lake Omeo. Given that John Higgins was only 13yrs old in 1836 and that his mother & stepfather were still alive, and living at Cornwallis. I wonder about the time span…
Other books mention the Murphy's, Jacky Dow, Percival Cochrane…they are all related to Mary Kelleher either via her children to Vardy Sheehan or her other children or grandchildren's spouses etc.
Mary Kelleher was my husband Kevin's 4th great grandmother.
Submitted by Maureen Clunne, on behalf of Bill Guthrie <superbwren-at-unwired-com-au>
---
Descendants of Vardy Sheehan



Submitted by Maureen Clunne, on behalf of Bill Guthrie <superbwren-at-unwired-com-au> 10.02.06

Recompiled from the new Monaro Pioneers database: 22.09.08