Home | Pioneers | Contact Us | Copyright/Disclaimer
---
John Schofield
Bobeyan 1837
---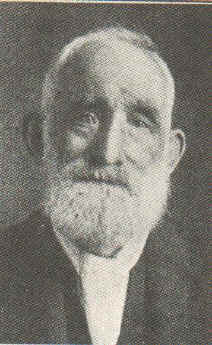 Mr John Schofield
JOHN SCHOFIELD, born at Bobeyan on 1st December, 1837, and now residing with his son at Chakola, is probably the oldest living Manaroite. His earliest employment was shepherding for R. Thurbon, of Good Good. After that he worked for Daniel Lucy, of Numeralla, and then for Birchman. Following upon that he wait employed by Mr. P. Clifford, of Rose Valley, and then by Alexander Montague, for whom he drew timber for the latter's flour mill. He has vivid recollections of Mr. Morris Harnett, of Rosebrook, Mr. Clifford, of Rose Valley, and Mr. Henry York, of Billyrumbuck, and says the first lucerne on Manaro was grown by Mr. Harnett, at Rosebrook. He remembers Colonel Mackenzie, of Dangelong, and a conflict with blacks, following upon the killing by them of a Dangelong watchman, at which a large number of blacks were killed. Mr. Schofield, though in his 89th year, is still able to ride his horse from Chakola to Cooma and return the same day.
Transcribed by Pattrick Mould in 2003, from the book "Back to Coma' Celebrations" page 86

---
The following photo was supplied by Michael Povey <mpovey-at-tpg.com.au> 29.09.11

---

Monaro Pioneers
NEWSLETTER
Published regularly, designed to keep you informed about the latest material, comments and updates on the site.