Home | Pioneers | Contact Us | Copyright/Disclaimer
---
Archibald Reynolds
Monaro c1836
---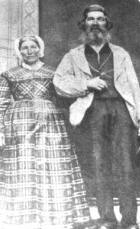 Archibald and Flora Reynolds
---
ARCHIBALD REYNOLDS, was born on the 5th June, 1819 at Wilberforce, N.S.W. A son of Richard and Sarah Reynolds. Archibald, arrived on the Monaro in 1836.

Archibald, was one of the first carriers to use bullocks in shafts as is done with horses. His main camp area was at Jew's Flat (now Bunyan), there was only one bark hut in Cooma at this stage. Some ten years later, he moved to Buckenderra, where he carried out dairying. In 1851, upon discovery of gold in Victoria, Archibald and his two brothers-in-law, John and Roderick Fraser, went to the Ballarat fields. They spent some two years away from home, this left Flora the task of bringing up the children and holding the home together during Archibalds abscence. Archibald, had reasonable success at the fields and came back to the Monaro when the free selection scheme was implemented. He took up an area of land named "Kyloe", which is near Adaminaby. The family remained at "Kyloe".
The only mineral to be found in any quantity was copper and Archibald's selection at "Kyloe" was fairly abundant with the mineral. In 1872, a 50 foot shaft was sunk and a lode some 16 feet was discovered. The mine was idle for about nine years until November 1882, when tenders were called to sink the shaft to a depth of 30 feet or more. In the following year, the mine was sold but little was done to develop the mine before 1901, when Litchfield and Hassail took over the mine. The Kyloe Copper Mine closed in 1913.
Archibald Reynolds, died at "Kyloe", on the 19th September, 1900. His illness lasted two months and death registered as a result of senile decay and old age. Ironically, Archibald was buried on the 21st September, 1900 which would have been his 60th Wedding Anniversary. He is buried in the Church of England Cemetery at Adaminaby.
Flora, raised 9 children, faced many hardships and isolation but was always there to support her family. Flora Reynolds, nee Fraser, died on the 18th September, 1911 at "Kyloe", Adaminaby. She was 93 years of age. She died as a result of old age and senile decay. She had been ill some three months prior to her death. Flora, is buried in the Church of England Cemetery at Adaminaby.
FLORA FRASER and ARCHIBALD REYNOLDS
Flora, was the eldest daughter of William and Catherine, born in 1815 at Lochbroom, Scotland. Baptised on the 12th April, 1816 and arrived in Australia with her parents in 1839. Flora, married ARCHIBALD REYNOLDS on the 21st September, 1840 at Jerrabunbera (Jerrabomberra) , by Banns (notice of intended marriage to be read three times in church, prior to the marriage, in order that any objections to the marriage be lodged), the officiating Chaplain was E. Smith. Witnessess to the marriage were Roderick Fraser, brother of the bride and Ann Reynolds, sister of the groom.
From 'Flora Fraser and Archibald Reynolds' by Christine McGregor
---
THE REYNOLDS FAMILY

This family started in Australia with the arrival of RICHARD REYNOLDS, a convict, who arrived in Sydney on the 20th August 1791 on board the Third Fleet ship "Atlantic". Richard, was born 3rd December, 1769 a son of Thomas Reynolds and Hannah Beale. Richard married twice. His first wife was a convict MARY ANN HIPWELL and his second wife was also a convict, SARAH STIRLING(s).
Richard, was sentenced at Chelmsford on the 2nd, July, 1788. The Chelmsford Chronicle dated 11th July 1788 reads, "Last Saturday our Assizes ended before Lord Loughborough and Mr. Justice Heath, when Edward Reynolds, Richard Reynolds and John Drew for feloniously stealing upwards of three hundred weight of lead, the property of Jeffrey Jackson of Woodford Bridge .... to be transported for seven years ".
Richard and the mentioned Edward, were brothers. Richard's first wife Mary, was born c. 1765 and arrived as a convict, on the "MARY ANN" on the 9th July, 1791. Sarah, the second wife of Richard, was sentenced to seven years at Middlesex in May, 1797. On the 31st May, Sarah was sentenced to be transported, Sarah, was just eighteen years old and arrived on the "BRITTANICA" in July, 1798.
By 1802, Richard was on a list of settlers, freed from convict status and had rented ten acres of land which he cleared and planted with wheat and maize. He also owned two hogs.
By 1806, he was completely free by servitude and had married Mary Hipwell. Richard owned the lease of fifty eight acres in the Hawkesbury District, which comprised of six acres of wheat, fifty one acres of pasture and one acre fallow. He had in his store half a bushel of wheat.
On the 1st January, 1807, Richard signed an address to the Rev. Marsden on his departure from the colony, thanking him for his good work. On the 25thFebruary, 1807, Richard signed another address, this time to Governor Bligh, from the settlers of the Hawkesbury and Napean District.
In 1809 , his name appears on a list of persons , put on stores at Hawkesbury after the flood of June, 1809. Four children had been born by this time. In June of the same year, Richard was given seed from the H.M. Stores, which he had to return after the following harvest. He had four bushels.
In 1810, he petitioned Covernor MacQuarie for confirmation of a grant of land between Sydney and Parramatta. During 1814, he became a Constable at Windsor and had seven children by this time. In May 1820, Richard Reynolds was a landholder at Wilberforce, N.S.W. In 1822 he was still the District Constable.
At the time of his death, he was described as a storekeeper. The book, The Hawkesbury Story, published by Val Ross, we find the following." ..... on December 26th, 1810, he (Gee Carmen) had bought Richard Reynold's 1804 grant, fifty acres at Flat Rock Reach (Portion 60, Parish of Cornelia) for £70.0.0 from the grantee. At this time Reynolds said that he had been there eighteen years, but had lost everything in the floods. He later became Pound Keeper (1815) and then District Constable."
Richard and his first wife, Mary, had only one son, Edward Reynolds. Mary and Richard were divorced and later Mary married Thomas Roker Gosper on the 7th October, 1810 at St. Matthew's,Windsor. Mary and Thomas, had four children.
Edward Reynolds, son of Richard and Mary Hipwell, was born at Sydney on the 26th December, 1794 and died at Colo on the 5th November, 1832. Edward had married SARAH MARIA SIBREY, nee Singleton and had five children. They were:
Elizabeth, born 26th December 1820 at Windsor,
Catherine born 26th December at Windsor, twin to Elizabeth,
Sarah born 7th November, 1823 at Windsor,
Hannah born c. 1825 and
Thomas born c. 1827.

Sarah, married RALPH TURNBULL, son of John Turnbull and Ann Wart. They were married in 1840. Sarah Turnbull, died in October 1886 and left thirteen children.
RICHARD REYNOLDS and his second wife, Sarah Stirling(s) had 11 children. Sarah died c. 1826. Richard died on the 26th August, 1837 at Wilberforce.
1. Thomas Reynolds, Born 1800 and died 13.02.1818.
2. William Reynolds Born 29.4.1804 at Hawkesbury and married Ann
Ann Clemson, nee Sibrey, at Portland Head on the 16.12.1833.
3. Catherine Reymolds Born 28.9.1808
4. Hannah Beale Reynolds Born ?, married John Gosper at St. Matthew's, Windsor.
5- Richard Reynolds Born 7.4.1810 at Wilberforce and married Elizabeth Graham at St. John's, Wilberforce. They had two children. (1) Thomas Orlando Reynolds born 9-5.1831 and (2) Henrietta Matilda Reynolds.
6. James Reynolds Born 13.3.1812.
7. Elizabeth Reynolds Born 28.7.1813.
8. George Reynolds Born 7.7.1815 and married Annie Lawless.
9. Sarah Matilda Reynolds Born 13.5.18'i6.
10. ARCHIBALD REYNOLDS Born 5.6.1819 at Wilberforce and married FLORA FRASER at Jerrabunbera.
11. Jane Reynolds Born 26.4.1821.
From 'Flora Fraser and Archibald Reynolds' by Christine McGregor
---
SQUATTER'S LIST 46/47
Richard Reynolds - Squatting in the Liverpool Plains District
"Mooki" 34,000 acres on the Mooki Creek
Pattrick 15.08.06
---
Descendants of Archibald Reynolds


22.05.06
www.owengenealogy.net
Recompiled from the new Monaro Pioneers database
:
29.09.07
---

Monaro Pioneers
NEWSLETTER
Published regularly, designed to keep you informed about the latest material, comments and updates on the site.