Home | Pioneers | Contact Us | Copyright/Disclaimer
---
Robert Magrane Reily
c1853 Adelong
---
Submitted by Pat Freebody <frederick.freebody@bigpond.com >
ROBERT MAGRANE REILY
1808 – 1864

MARTHA ANN SHARP/HARPER/REILY
1801 - 1861
Robert arrived in Australia in a Convict aboard the Medina Convicted of Robert 26 April 1823 Dublin City.
He received 7 years Occupation Calico Printer, Age 17 years, 5ft 1/2inches tall, fair pitted completion, hair Brown, Eyes Light Blue, Roman Catholic. Was at Windsor and then Bathurst finally working for Peter McIntosh at Bollwarra, Patterson Plains. Peter was a settler of Segenhoe, Durham . Robert met Martha Sharp b. 1801 Parramatta, died 26 Nov 1861 Adelong. Martha had been married to another Irish Convict Christopher Harper. She had most of her children to Robert without marriage they married in 24 Feb 1848 at Hinton near Maitland under the name of Sharp (finding Christopher did not die till a few years after her 2nd marriage.
Story Passed down from family)
Robert was the original Inn Keeper at Reillys Crossing, Middle Adelong or Wondalga as it is called today. He absconded from Dublin University and came to Australia . He had "Diggers Arms" or Adelong Creek Goldfield Hotel (a tent in 1858 and building in 1860) and was one of the very early pioneers and conducted the hotel, store and butchery. The old hostelry was well situated for trade at the crossroads for Tumut , Tumbaumba, Reedy Flat, Main and Upper Adelong and Adelong. On the road to Wondalga from Tumut a very steep hill bears the name "Rilley's Gap" Robert drove the first bullock team down or up the gap (hence the name). The hill was always dreaded by the bullockies of old who regularly hauled goods from Tumut to Tumbarumba, a good 40 miles of hilly country. Robert brought Gold extensively from the miners up and down Adelong Creek and did a rousing business.
Newspaper Articles Tumut & Adelong Times –
Perkins Papers - Reily & Sons of Spring Creek have contributed to the Roman Catholic Church building fund very liberally. They have now donated a large stain glass window for the Chapel. The window has not arrived yet. In 1857 Gold was discovered at Mt Charcoal near Adelong. From the reef between June 1857 and Sept 1850 12,000 tons of Quarts produced 60,000oz of gold. About the same time Reedy Flat (Batlow) was in a Gold Boom. Mr. R Riley then had a hotel and store at what was known as Reily's Crossing on the Adelong Creek, it was first know as Black Springs. Some Years later Robert Downing brought the hotel.
Perkins Papers 1853. The following Public Houses held licences, Milton Head Inn Gundagai North – Robert Reily. The Diggers Arms Adelong Goldfields – Robert Reily. He was there in the gold boom days when Reedy Creek was in full swing.
Xmas sports at Adelong Creek a great deal of sports occurred at this diggings during the holidays organized p
Principally by mine host Mr Riely who presented 20 pounds to be contested for by several races of 5 pounds each. The races went well and created a considerable amusement. Several footraces also took place, and the day passed in great good humour and the sports gave general satisfaction
After a long and successful run of business Robert disposed of the property by Auction. The family later moved to Cowra. Children all born at Maitland area.
Martha Sharp Harper Reily
Martha's parents were Martha BURRELL (Convict) and Thomas Sharp (e) Soldier
Mrs Reily's health having given anxiety she decided to go to Sydney for Medical attention. With her son, Robert she rode the whole distance. While under treatment, and feeling low spirited, she became dubious of recovering, and taking her son into confidence, she told him of three bottles of gold nugget which she had carefully hidden away in a hole under the floor of a certain room up at the Inn . "If anything should happen to me down here, those nuggets are to be yours, Robert," she said. Happily however Mrs Reily recovered, and they rod home, a distance of well over 300 miles, rather a severe undertaking for a lady convalescent, but of such wonderful stamina and pluck were the pioneer women of Australia made.
Arriving home Mrs Reily at once went to see how the precious nuggets were faring. Alas! The hole was there but the bottles and their valuable contents were gone. Where they went and by whom extracted it was never learned.
Children of Robert & Martha Reily
1) JAMES MAGRANE REILY
James in 1839 – 1840 James then 19 years old was a young stockman working for Explorer Strzelecki on his terrible Gippsland Journey. James in 1854 married Elizabeth Boyd who's father was a Convict who was convicted of being a Highwayman and received Life, in 1824 Thomas was an explorer with the Hume & Hovel expeditions Burra Creek.
| | |
| --- | --- |
| | |
| Daughter MARTHA REILY | CHARLES SMILES |
Jun 7 1873 History of Tumut unpublished works of Snowden
Charles Smiles married at Rely's crossing to Martha Sisley Magrain Reily daughter of R.M.Riley and the licensee of Rileys Gap Hotel. Mrs Smiles granddaughter of Thomas Boyd of Hume & hovel Expedition. In later years of their lives, Charles & Mrs Smiles lived on a property of about 50 acres between Lambie St & Spring Flat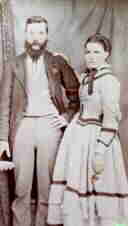 MARTHA MAGRANE REILY and husband ROBERT FREEBODY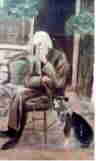 JOHN MAGRANE REILY 1835 - 1927


from a painting done by William Byrne Freebody
brother of his Wife MATILDA FREEBODY