Home | Pioneers | Contact Us | Copyright/Disclaimer
---
Charles Summerell
Nimmitybelle c1853
(Last changed Tuesday May 29, 2012)
---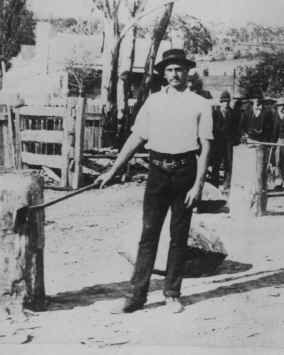 Charles Summerell jnr - Bombala 1896
---
The Summerell Story

On 13th August 1803 Charles Summerell appeared in the Somerset Summer Assizes, England,. charged with stealing ,( on 9th October 1802 ,) a grey gelding worth 10 pounds ,.property of Thomas Hunt. The offence was committed at Nailsea (near or part of Bristol) He pleaded not guilty. Charles was sentenced to hang but he was reprieved and the sentence was commuted to 14 years transportation to the east coast of New South Wales.Australia. Sailing from England on the 28th of January 1806.,….Charles arrived in Sydney on the 12th of July 1806 as a convict aboard the ship " Fortune 1 " A voyage of 165 days . 260 convicts embarked with 256 disembarking following the death of 4 . The "Fortune 1" was under the command of Henry Moore . Fortune's muster of convicts was mixed with the muster of Alexander. These transports were to sail with a ship commanded by William Bligh, who was going out to become governor of NSW.

In 1820 Charles petitioned Governor Macquarie for a land grant as his sentence had expired in 1817. It is unknown whether he received the grant. On November 24th 1825 Charles was granted his official certificate of freedom. At this time he was 47 years old, had a dark ,sallow complexion,. black to grey hair and dark eyes and was 5'6" tall. His certificate stated that he was a native of Gloucestershire and was a pin maker by trade, although his court case stated that he was a labourer.

O the 15th of July 1815 Charles(31) married Mary Webb (21) at St Johns in Parramatta. They were married by the Reverend Samuel Marsden. Mary was also a convict ,.having arrived on the "Wanstead" in 1814 . Mary Webb, Amelia Maton and Mary Smith ,.all single women stole "one piece of printed cotton of the value of 1 pound 12 shillings ..from the shop of Thomas Gibbs in the Parish of Christ Church (Southwark) in the county of Surrey" on 19th of Feb 1813. Convicted at Surrey Assizes on 29th March 1813 to 7 years transportation. She was a nursemaid on arrival and was age 20. On the 13th of January 1814 ,only a few days after her arrival , Mary was on a list of women prisoners from the "Wanstead" sent to Parramatta.

Their first child – Ann was born April 1st 1815 in Parramatta . Christened 16th April 1815 also at Parramatta. Anne married Joseph Wicks in 1833.

The next child was a son – William ,.born 17th April 1817 ,Parramatta. (christened 28th Nov 1821). William eventually settled in the Bombala/Nimmitabel area where he died in 1896.



George was born on the 3rd of May 1819 ,.but his birth wasn't registered until 1824, at Liverpool.
George was a shepherd on Black Springs Station. In 1852 George married Ann Roach at "Nimmitybelle". They produced ten children before Georges death on October 24th 1878 at Bombala. It is believed that George died of cancer. Although Georges marriage and death certificates used the name Summerell, his present day descendants use Summerill.



The fourth child was Charles (1821-1889) . was baptised Charles Sommerell by the Reverend Thomas Reddall at St Peters Campbelltown. Charles is listed in the 1828 census as living with his parents.

John was the 5th child (1824-1898) born at Cowpastures (Camden) ,.died at Bombala. John never married.

The sixth child was Jane . Jane married James Bales and produced 14 children and many more descendants before her death in Temora in 1912.

James Summerell was born in 1828 in the Lake Bathurst area ,…his two marriages produced 19 children…most of whom settled in the Bombala area.

Henry was born in 1831 ,.the eighth child of Charles and Mary .

Mary Anns birth was registered in 1833….as was her sister Elizabeth – children 9 and 10 of Charles and Mary.

It is not known when Charles died but we know that it was after 1845. Any info on his death or burial would be most appreciated. Mary (Webb) Summerell died 14th August 1836.
---
CATHCART PIONEER WALL
Summerrell
In memory of the Summerrell Family
Charles
His wife
Mary Webb
Convicts
---
Their children and the seventeen children of their son James and his wife Emily Williams who spread out across the Monaro.
Their son Jim a blacksmith who pioneered bullock shoeing at Cathcart with his brother George and the thousands of their kin who now reside around Cathcart or who have radiated futher across this land of Australia
Submitted by Yvonne skweek@bigpond.com
---
CHARLES MORRIS SUMMERELL (21/11/1879 - Jan. 1956)

Thomas Henry Summerell married Rebecca Healey in 1878 in Bombala. They settled in the Nimmitabel district and had 10 children, Charles Morris was the eldest of the these children
Charles married Elizabeth Cassilles in Nimmitabel (Nimitybelle as it was then spelt) at the Methodist Church in 1906. They lived in Nimmitabel and their seven children were born in Nimmitabel.
Charlie (as he was known by all) was an expert bushman, blacksmith, teamster and anything else he put his hand to. His sons followed in his footsteps. Charlie was in charge, along with Jack Brodie and Tom Peters of a very long bullock team (66 bullocks) that transported the 30 ton "Kyloe" boiler from the Cooma Railway Station to Kiandra Goldfields. At one stage he also carted butter from the Butter Factory up the Brown Mountain to Nimmitabel Railway Station, having to camp at Bill Butler's on the Brown Mountain. Sometimes, Charlie's eldest son, Jack would do the trip alone, and being a young lad, had to use a butter box to stand on to harness the horses.
Charlie was a great teller of yarns – many of which were true.

From Rae Blyton
---
From: cpatnarooma2-at-bigpond.com
Sent: Sunday, 4 March 2012 11:59 AM
Subject: Charles Summerell Newsletter Feb 2012
The boiler was transported to the Kiloe Copper Mine near Adaminaby NOT to the goldfields. Robert King
---
Descendants of

Charles Summerell
Compiled from the Monaro Pioneers database by David Smith
with some additional information supplied by:
David Bales <sdbales-at-gmail.com> 28.02.06


Ian Harvey

<iansharvey-at-bigpond.com> 10.03.07
Recompiled from the Monaro Pioneers database:

20.06.07


with additional information supplied by:
Wendy Malcolm 8.12.07, 20.02.08, 3.12.08, 1.09.10
Ash McPhee [svgmedia-at-bigpond.com] 3.02.09