Joseph Walpole Silk

Cooma c1844
(Last changed Monday June 25, 2012)
Genealogy | Owen E Silk |Frederick J B Silk
---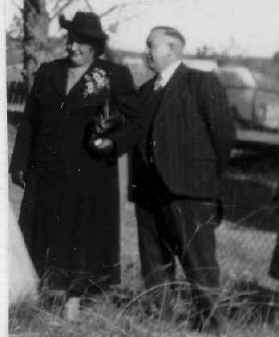 Fredrick Joseph Basser Silk and
Olga Eunice Silk nee Rayner. Circa 1949.
---
OWEN EUGENE SILK, b. 1851, Cooma NSW.; d. 4 August 1934, Nimmitabel NSW.
Owen farmed at Woodbine, Nimmitabel. He grew the first frost free potatoes on the Monaro. Owen was a councillor at Cooma.
TRIVIA -
The First Jumbo - he was the heaviest person to fly in the Kingsford Smith plane 'The Southern Cloud', weighing 37 stone in 1930.

Frederick Joseph Basser Silk

Fred was born at Adelaide in 1899 and died at Bombala in 1956. His parents were David and Nellie Basser. Fred was reared by Mary Anne and Owen Silk. He died at Bombala in 1956. Fred rode his pony from Woodbine to school at the Convent in Nimmitabel in his early years and completed his education at St Joseph's College in Sydney. From there he went to the Adelaide Steamship Company in Sydney where he did his apprenticeship. He recieved his Marine Engineers Certificate.
Fred worked in many places including the Power house in the ACT, at Queenbeyan he assemble a Navy Drag Line that came from England, he drove the machine on the construction of the Mt Darragh Road. At different times he had Motor Garage Workshops at Cathcart, Bombala and Nimmitabel. At the latter he had the use of the old mill as a fuel depot. At Bombala he had a Motor Dealership where his two sons worked. Fred also had a marine workshop at Eden. he was the Deputy Mayor of the Bombala Council. He invented an automatic conversion for the old .303 rifle, which was similar to Owen Stanley's.

Fred married Olga Eunice Rayner at Bombala in 1922. Olga was born at Dannervicke in New Zealand, her parents were Ethel and George Rayner, she died in Canberra in 1986 and is buried at Bombala. They had the following children:
Owen Frederick (Jack) b. Qeenbeyan - 4 Children
Noel George (Mick) b. Nimmitabel - 5 Children (Noel was the first child born at the Nimmitabel
Nursing Home 21.12.1924)
Joanne Natalie Ward b. Queenbeyan - 2 Children (Felix Ward died in 2002)
Patricia Ellen Caterson b. Cathcart 1 Child (Leslie Cateson died in Sydney 1972)
Valda Margaret McDonald b. Bombala - 3 Children (Ray McDonald died in 2002)
The families are scattered over NSW and Queensland, there are now 15 Grandchildren, 37 Great Grandchildren and 12 Great Great Grandchildren
---
Descendants of Joseph Walpole Silk



Pat Marsh <swampets-at-tpg.com.au> 10.11.06

Recompiled from the new Monaro Pioneers database: 23.09.08
with some additional information supplied by:
Jan Paemaa [Paemaa-at-people.net.au] 29.11.10