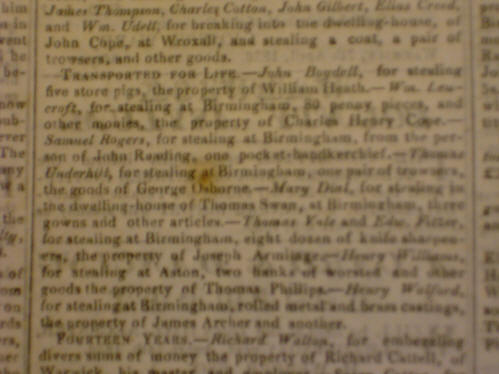 Hi,
Attached is a photograph I took at the Shakespeare archives library in Stratford-upon-Avon. It is a photo of a small column in "The Warwick and Warickshire General Advertiser and Leamington Gazette" Vol XXV No. 1266 Saturday April 10th 1830.
If you look carefully you can read the heading "Transported for Life" and a few lines down "Thomas Underhill for stealing at Birmingham, one pair of trowsers the goods of George Osborne". This sentencing occurred at the Easter Warick Assizes which began sitting on the 27/3/1830.
I thought this may be of interest to add the information on the web site re Thomas Underhill.
"Anna" <Anna-at-maxumise.com.au>
---
The Underhill Family By Jack Burgess

Well I suppose all stories must have a beginning and to talk of the Underhill family we'll have to go back to England. Unfortunately I know very little of the early days of the Underhill family. What I do know is that they were and are an old family at Warwickshire. In more recent years I have heard that another branch is in Plymouth who prefer to call themselves the Plymouth Underhills. A woman, who came to Bega from Plymouth and was going to live here, told that story to me but something went wrong and she had to leave Bega. Her story was, and I'm only repeating her words, that the Plymouth Underhills were a branch of the Underhills of Warwickshire who followed Sir Walter Raleigh to Plymouth. Whether there's a truth in that story I don't know, but sometime along the line I hope we'll be able to look into this England side of the story.
I do know that the Underhills of Warwickshire were living in Stratford on Avon, there is a number of references to the fact that they were there during Shakespeare's time. One story would be true was that after William Shakespeare had made a name for himself in London as a Playwright, he returned to Stratford and wanted to do something for his parents. So he bought the best house that was available in Stratford at that time, and that was an Underhill house. We have a copy of the legal documentation for that sale but we'll leave the England Underhill's there. This would be a great lot of research that could be done on their life in England but to us in Australia the first Underhills that we know was Thomas.
Thomas was the forebear of the Bega Underhills and possibly the majority of the Australian Underhills. Thomas was born on the 25th of March 1816 supposedly in Birmingham. He was the son of Samuel Underhill and Sarah. Sarah was formally Sarah Hines. Little is known of the family there but we do know that when young Thomas was 14 he was before the courts. And I believe it was a minor charge and those days it was called 'robbery'. I'll give him the benefit of the doubt, it could have been "goods in possession' as I found with another member of the family that was arrested on the charge "goods in possession" and he claimed he was only minding them, but that's another story.
We find that Thomas languished for a while in an English prison and the next we find is that on the 28th of July 1831 he arrived in Australia as a convict still only 14 years of age on the transport Exmouth. Very little is known of his early days as a convict. But at some time he was placed in the protection of the Imlay brothers. Possibly and I say my version is that he was one of the convicts that came under the protection of the Reverend George McPhee, a minister of the Church of Scotland. I was talking about convicts and would like to think they were special people who came under notice or protection of the Reverend George McPhee.
We know Reverend McPhee had interests in the South Coast. At one time, he was accused of not looking after his parishioners. And the report in the paper at that time said "it would suite the Reverend McPhee better to look after his own flocks than to wander the country securing land for his friends the McArthur's for their flocks of sheep". But anyhow I like to think that through the Reverend George McPhee he did Thomas Underhill a great turn.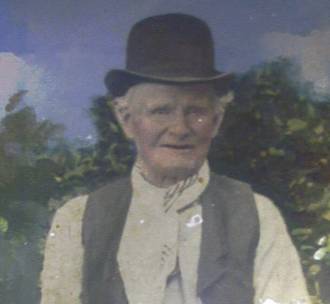 We know that as a ticket of leave man he came into the employ of the Imlays and there is reference to him coming to Foal Bay with them only one other name still in existence that came with him was John Hayden. And John Hayden leaves descendents in this district also including a Jimmy Rixon, the Chairman of the Bega Co-op is a direct descendent of John Hayden. But we find Thomas coming down here as a Blacksmith with the Imlays and he also assisted on their whaling boats. Next we hear (we have the marriage certificate) when he married Jane Kirkland a free immigrant from Northern Ireland. And how they met we do not know but they were married on the 2nd of March 1842 at Broulee and who should marry them but the Reverend George McPhee. After the marriage they came back from Foal Bay to the Imlay settlement in Tarraganda. Actually it is part of the old Tarraganda Estate but it was on the Corrigerie farm and there they sat up a smithy and among that were what was described as the huts that the Imlays had for their workers.
In January 28th, 1843 their first child Sarah was born, now we hear various stories of who was the first person born in the Bega area. But I think my proof is that Sarah Underhill was the first child to be born in Bega. Unfortunately she died on March 12th, 1844. Her body is buried in the little private cemetery on the Corrigerie property, still within the Tarraganda estate. But not to be confused with the Imlays cemetery at Tarraganda. They are only a few hundred meters apart but a little group of graves on the Corrigerie side is the first cemetery in the Bega area.
Sarah's birth was followed by Henry and it is maintain that Henry Underhill was the first surviving child to be born in the Bega area. He was the first boy and because of the death of his sister I put it that he was the first surviving child to be born in Bega. Henry survived and lived to a good old age, dying in 1912.
Now I'll give you a list of the children of Thomas and Jane. As I said before there first there was Sarah, Henry followed by William, Samuel, James, Thomas, George, Joseph, Elizabeth-Ann, Robert, Jane, Charles Albert and John Alfred. He was the last-born and that was the man who was known as Tapper and he did not marry.

Jane Underhill with 12 of her 13 children at "The Corner" in 1905.
Back Row Left to Right: Thomas, Charles, Joseph, James, Samuel, George, Robert & John
Front Row: Ann (Rixon), William (?) Jane Underhill, Henry, Jane Rixon,
Still speaking of the children of Thomas and Jane I'll go back and tell you who they married: • We find that Sarah died in infancy. • Now Henry, who survived, he married Mary Jaggers, a name well known in the district. • William married Elisabeth Love whose mother was MaryAnne Rixon. • Samuel's first marriage was to Emmaline Cuvington daughter of Sims Cuvington the man that was with Darwin on the Beagle. Their marriage did not last long, Emmaline died in a sense tragically and then Samuel married Hannah Gleeson whose mother was Barbara Spence, early settlers of this district. • James who lived at Rocky Hall married Catherine Brae and they remained in Rocky Hall. • We come onto Thomas who married Mary McPhee from the Roane Horse Hotel at Pambula then well throughout the family we find the McPhee's coming in again at stages. • We move onto George, my grandfather he married Mariah Rixon and that was the beginning of three Rixon-Underhill marriages and well I'll take you back to William. • William married MaryAnne Rixon's daughter Elizabeth, she was the famous Aunty Bet and woe betide any of the cousins who tried to call her Bet and not Aunty Bet. • Joseph married Nelly Dunsmore possibly she had been married previously and her name was Nelly Gabbet, I presume she was a widow because I understood she was Nelly Dunsmore. • We come on them to Elizabeth-Anne, Aunt Annie as she was known and she married Thomas Rixon, the second Underhill-Rixon marriage. • Then we come to Robert he was the master builder and he married Annie Bruce, who was a cousin of Mary McPhee. • Next was Jane and she married JR Rixon • and we come to Charles Albert Uncle Charlie of Ravenswood and he married Elizabeth Howard • the last was John Alfred known as Tapper and Tapper did not marry. But for the record I think he may have (at least at one stage he was in a breach of promise but anyhow he still did not marry and he was the bachelor uncle.
Now I'm going through the names again I realised I should have done more research but I want to speak as the thoughts come to me, and not turn into something different.
We'll just go back to Henry and what they did in life. Henry the second born was a very smart young man. I remember saying to my mother once where would he have receive his education because at 21 we find him as a hotel proprietor and well known in business circles. Henry started at 21 he had the license of the family hotel then he sold that to his father Thomas and he moved to the Bank Hotel which still exists and today is owned and operated by Paul Rixon who is directly descended from the Rixons and the Underhills.
We come to William who married Elizabeth Love, he farmed on the old property at Angledale in partnership with his brother Thomas. They each had their respective farms but they ran them together.
We come to Samuel who farmed at Brogo and then retired to live in Ashfield in Sydney. James farmed at Rocky Hall and he had a very big property there toward 2000 acres. He ran a very successful dairy farm there and shipped Jersey cattle from that property to the Northern Rivers in NSW and I remember once my mother telling me she was visiting some of her family in Lismore and she met Uncle Jimmy in the street and he said "I've shipped cattle up here to sell".
We come onto Thomas who married Mary McPhee from the Roan Horse at Pambula. He was the partner of William with there farming venture at Angledale and those two farms they operated jointly and are still held in the Underhill family. George inherited the Angledale property known as "The Corner" and it remained in the family until after his death and it passed out of the family in the 1930's. The Corner was the old name for Angledale that area is a bend in the Brogo River and that land is, shall I say, in the corner of the bend. How the name changed from "The Corner" to Angledale was the fact that there was a post office, a receiving office, established at the property named Angledale and then the area took the name of Angledale as it is known today.
Joseph, he was a carpenter, he also had land but he was a carpenter. Elizabeth-Anne (Aunt Annie) who married Thomas Rixon, she became a hotelier, she took over the family hotel on the death of Thomas, her father and although she held the license her husband's name appeared over the door, Thomas Rixon and throughout the history of the Underhill and the Rixon families with their hotels, the women never put there name over the door. The reason, well I don't really know but I don't think they considered it ladylike to have their name as the saying goes "over the door".
Robert was the master builder, now he built under his own name here as Robert Underhill then he took into partnership a clever young English carpenter by the name of Robert Thatcher. Somehow he had heard that Robert Thatcher wanted to come to Australia and he engaged him and they formed a partnership of Underhill and Thatcher. Throughout the district they built some very early buildings. One of their better-known buildings is the St Joseph's Convent in Bega. Later on the partnership was dissolved. Robert Underhill went to live in Bondi and became a builder in the booming suburb of Bondi where he became well known in that area.
Jane who married JR Rixon later became owner of the family hotel but again did not put her name "over the door" and that was John Robert Rixon's name that went "over the door". And on some occasions Uncle JR said he would take his name down from the door but Aunt Jane persuaded him to leave it up there but anyhow whatever happened on that occasion the day was saved by his name still appearing over the door.
Charles, he farmed at Ravenswood, that was his inheritance and Ravenswood was left to his daughter Dorry Healey. John Alfred had land but he lived at the hotel or at the house near the hotel and kept close to his mother and he was the last of the children.
I'm at the museum and we've brought out the Underhill file and one of the things that comes to our notice is Mrs Thomas Underhill. The second Mrs Thomas, Aunt Mary in her garden, she was a great gardener with a lover of flowers and there's a photo of her in the garden at the farm at Angledale and then again in her garden in Belmore Street. I can remember Aunt Mary, a grand old lady, one had to be on your best behavior when you were taken to visit her. And one thing I remember invariably she wore a velvet band around her neck and on it would be pinned a broach of some kind. I remember being threatened by my mother once when I said "What is Aunt Mary wearing a dog collar for?" but it was a fashion at that time and that was Aunt Mary and this velvet band around her throat.
One Underhill who made quite a name for himself was John the son of Henry Underhill, the butcher and publican. He had three sons and there was a Henry, William and a John but they were known as Brassie, Broggie and Boxer, that was John. Anyhow, there were three sisters one of them married Scotchie McPhee the man who ran the coaches to the boat at Tarthra. Another daughter was Mrs Stapleton, she married late in life but before her marriage she was the matron of Trinity College in the Western Suburbs of Sydney, a well-known boarding school.
I've come across people who were boarding there while she was the matron. Another one of Henry Underhill's daughters became an Anglican Nun, off hand I cannot remember her church name but among the family she was known as Curly Ada. There was two Ada's, they were first cousins but this particular woman who became an Anglican Nun was known within the family as Curly Ada. However, she did not live to a great age.
Then still on that family, we speak of John Underhill, a very smart young man and he was the first secretary of the Bega Co-operative Society. He was the secretary of the Show Society and secretary of the Jockey Club and secretary of the Pastures Protection Board. He was so young when he secured one or some of these jobs or one job in particular I think it was the Show Society, it was reported that they had appointed Master Underhill as their secretary. Well he went on and we have a resume of his business life here at the museum. He was in Bega and he wanted to return to Sydney. One reason was that he had a very beautiful wife described as an Irish beauty and I heard she made a big mistake in coming to live in a quite country town of Bega. Anyhow it said the position Secretary of the Royal Agricultural Society came up and he submitted an application. He was not successful but somebody on the Royal Agricultural Society Committee said this is the man we want to run a racing committee in Sydney and he was offered the position of Secretary of the Associated Racing Clubs of New South Wales. Well I've heard my father say, if he went to Sydney to the Sydney Show he would meet Boxer Underhill there and there was always free passes to the various races at Randwick. His daughter Molly became Lady Askin the wife of Bob Askin the Premier of New South Wales. And we're fortunate to have a Portrait of Lady Askin, which came to the museum through her nephew, and we're very proud to have it here in our museum.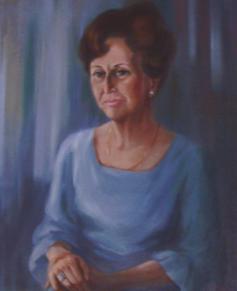 George, my grandfather, married Mariah Rixon. The daughter of James Rixon hotelier of Eden, the first hotel in Eden, and the very early hotel licensee in Bega. He was the first of the family to come to the family hotel, (the museum) when it was known as Rixons Family Hotel. George, my grandfather was a great lover of horses. Possibly if he hadn't been a lover of horses, and horseflesh and racing and what have you, he may have died a wealthier man. But he had inherited a farm from old Thomas on Thomas's death. I better go back and say that, when Thomas Underhill died at the family hotel here in 1898, he left a farm each to his twelve surviving children and one of those farms was the property known as "The Corner" which George Underhill, my grandfather inherited. But because of his love of gambling and horses and what went with it he was restricted into what he did with his farm. He wasn't allowed to sell it for his own benefit. He was responsible for bringing some of the better horses to the district, bloodstock to the district. But one of the horse he had together, he and a man named Arthur Alcock, who was in his day a land baron in the Candelo Bemboka area, they secured a horse called 'Senashille' a blood stallion. Who I believe ran in an English derby and for some reason that horse was disqualified. And the next we know that the Whites of Havalagh at Mudgee, the well known grazing family who still exists, had brought him to Australia and for some reason the horse was on the market and George Underhill and Arthur Alcock made the journey to Havalagh at Mudgee. And they bought the horse and brought him back to the Bega District where he sired possibly the majority of the best blood horses that the district had ever seen. That statement had come to me from Herb Parbury who was also a lover of horseflesh and I presume that Herb had heard that from his father who was Charles Parbury and his wife was Mary Kirkland a niece of Mrs Thomas Underhill, the first Mrs Thomas Underhill.
Going back to the horses, owning of this famous stallion 'Senashille'. Authur Alcock had died and George Underhill bought the stallion and owned him in his own right. Then came the migration to the Northern Rivers, a lot of people in the Bega district came filtering down from the northern rivers from shall we say the Richmond the Clarence and the Tweed Rivers in New South Wales apparently timber cutting, as the cedar cutting had cut out and they were developing the land up there. The rich land and they were encouraging people who had knowledge of dairy farming to go there.
George Underhill and his wife Mariah Rixon and their family all except one of their family. My mother was one of them and she was asked "Are you coming to the Northern Rivers with us?" and she said "No I'm going to be married" and she married my father and they said, "What are we going to do with the farm?" Oh well they said, we'll get, Frederick Robert Burgess (that was my father) better known as Jack Burgess to run it and my father and mother ran that property for many years. But going back to that horse George Underhill took the thoroughbred stallion to the Northern Rivers.
Now to this day the Underhills on the Northern Rivers of New South Wales, they are still there, quite a number of them, they all descend from George Underhill and Mariah.
I'm talking to Sandra Florence here who is prompting me a little bit now and again I know I should have rehearsed this much better but then again it would become a bit stiff I would think if I had to put it in writing, as the thoughts come to me anyone within the family I'm trying to give you leads and it is possible to get better information when I began interesting myself in the family it was rather difficult to do I always regret that when I was in England during the war, I spent two and a half years in England and it would have been a great place to have done some research on the Underhill family.
SF: Roberts son Garvey, you don't want to talk about Roberts family? Henry married Charlotte Jaggers at her father's residence at Kamaruka Stores in 1915 JB: She was Mary Charlotte apparently SF: So Hugh Jaggers was out of Kamaruka wasn't he? JB: Well I didn't know that, the Jaggers come into the Underhill, then they come into the Parbury connections. And they became, well John Jaggers was the first Post Master. Some connection was also a Baptist Minister because when Charles Parbury married Mary Kirkland they were married by the Baptist Minister Jaggers, who was their cousin or uncle or something or the other.
I was young, there was a war on, and there was a lot more things to do than to go round looking for, it was not fashionable, put it that way it was not the fashion to search for family connections and it would have been rather difficult during the war.
SF: This Mrs E M Underhill who had a sale of furniture in 1923. Who would she be? JB: Oh What year? SF: 1923 Mrs E M Underhill aged 46 years and 10 months in 1915 JB: That must be Aunty Bet. That must have been when she came to Bega to live, she had a clearance sale at Angledale. She was Mrs William, Oh but wait on but William was alive when she came to Bega. She had one in 1934 I think it was. My mother bought some of the things there at the sale. She bought the bed that Aunty Bet died in. My mother came home with this beautiful bed. Well today it is described as a brass bed but pale blue and nickel instead of brass, a beauty, that was the bed Aunty Bet died in. And then one day so many years ago my sister said "Listen I'm gonna sell that bed" No restore it, put it away. And well I said you can't sell it we'll have to do it up. So I came up to the workshop at Belmore to whoever I knew there, whoever it was, one of the Tatleys I think, was a painter and I said "how do you ducker" and they told me what to do and I bought the same pale blue and fixed it up and we were able to buy a new mattress for it and we put it into Dundidi. And then, when my sister died and Janey came in and said 'Out it goes' and I said don't knock it about and I took it to Nitherebelle. I took a lot of things up and sold them and I got $15,000. That was Aunty Bet's bed.
We've just had a little break and I'm thinking it would make very good reading. But, I'll have to cut back on some of those things and tell you all at some later date.
The connection between the Underhills, the Kirklands and the Paburys closely connected and as I've told you before, old Thomas, the first Thomas, married Jane Kirkland in 1842 and Jane Kirkland, she had come to Australia from Northern Ireland just outside Londonderry. With Henry Kirkland and his wife Sarah they were free settlers and off-hand I think they came in with their family in 1837. At one stage, they would have landed in Sydney, they were in Braidwood at one stage and I would think that it is where Thomas Underhill met young Jane Kirkland. They moved from Braidwood to Araluen. The Kirklands were down at Broulee at what is known today as Mount Audrey. And that was where Thomas and Jane were married, another son of Henry and Sarah Kirkland was James. He was the father of Mary who became Mary Parbury, she married Charles Parbury and when they were living at Brogo they later moved to Yaranung and then after a few years the Waragaburra Estate came on the market and that was one of the greatest land purchases at the time. The Waragaburra Estate was owned by A.L.Manning and he was a descendent of the early Mannings of Kamaruka who were participants in the Twofold Bay Pastoral Association.
They had a close interest with Kamaruka when it was to be broken up as a squatting lease for some reason or other, the Tooth family lodged a better claim but the Manning's secured some very good land out of the vast Kamaruka run and amongst that land was the Waragaburra Estate and it came down to a man named A. L Manning (Alexander Louie) Manning and he died a bachelor. Off hand I think it was possibly 1917 between 1915 and 1920 that property came on the market and Charles Parbury purchased the majority of it. There was one farm of 380 acres that he wasn't able to buy but it suited him to let another interested party buy that portion of land because it got rid of him. He let this man buy old Waragaburra and when he had secured that land Charles Parbury knew then "Well I'm not going to have anymore interference from that fellow" and he was able to go on and buy three separate dairy farms in the old Waragaburra Estate. When we talk of the Kirkland's and the Parbury's the Jaggers come into it. Not only did James Kirkland marry a Jaggers and his nephew Henry Underhill married a Jaggers so it was a close-knit family you can work out what the relationship is but I won't hold you up now.
But the Jaggers, are an old family who had come out from London and were in business, there's records of them having a store on the Kamaruka run we find John Jaggers having the first post office in Bega. When Charles Parbury married Mary Kirkland they were married by Mary's cousin the Reverend Jaggers who was a Baptist minister.
Now I'm sitting here as you enter the museum and behind me is the side saddle. The story of that is when Charles Parbury married Mary Kirkland there was a reception at one of the homes and the bridesmaid was Jane Underhill, Mary's cousin. The wedding was performed by the Reverend Jaggers and there was a reception then the Bride and Groom went off to their own farm at Brogo and when they went out to their horses there was a horse saddled for the new bride with a new bridle and saddle possibly the horse was a gift also (I'm not too sure of that). That saddle was Charles Parbury's gift to his bride it is still in wonderful order and is here on display at the museum.
I have just though of the part that some of the Underhills played during the First World War and possibly the Second World War. But in the First World War we find that Percy Underhill, the son of the second Thomas and Mary enlisted and his number was (there's only three numerals in his number, such an early enlistment) also to serve overseas was his first cousin Clive Underhill from Ravenswood, Charles and Elisabeth's son. I know there are others but offhand I cannot think of other Underhill's who went to the First World War.
We come to the Second World War we find of Thomas and Mary's grandsons we have Harold Underhill who fought with the second AIF in the Western desert and was returning to Australia possibly to be sent to Singapore we learn of his death and I think he is buried in Bombay. His brother Alan was a pilot in north of Australia and also in World War Two. The parents of Harold and Alan, were Thomas (the third Thomas Underhill) and his wife Eliza who was Eliza Jane Cochrane, the daughter of Thomas Cochrane.
There's another Underhill, a photo here that has just come to light of Henry Underhill, he was a grandson of the first Henry Underhill that we know of and he joined the AIF and I believe he was on a Hospital ship. I think it was being directed to Japan when it was torpedoed and so we had the last Henry Underhill "The Centaur" name disappearing from our midst.
Now I'm back with you again Max. You wouldn't believe it but we've had some diversions here today which is Saturday the 8th January, and Sandra is here with me. We've had some most interesting visitors; especially an English couple who come from Gloustershire. Actually they know the place where I was stationed in the Airforce during the war and they had come to enquire of the husband's great grandfather. A man named Jarman, their name is Jarman. Actually we've found a registration of his death and well they were able to see a building next door to the museum here where the proprietress, Anne White in 1870 was a witness, I think, or an informant of his death. Of course one thing led to another and we're talking about these things and I forgot what I was talking about but look just for the present I'm going to stop and let you wade through this. I am sure I can do a better job another time. I'd like you to ask me some questions, put it that way. You ask me questions and I answer them. Well I think with that it's nearly time for me to go home go round some cattle and one thing and another. Regards to you, your wife and to the connection Neil Underhill over there in Fiji.
Document contributed by Anna <Anna-at-maxumise.com.au>