John Love
(Last changed Monday May 21, 2012)
---
Elizabeth Hoare nee Love and her daughter Ann Phibbs nee Hoare taken in 1865. The original of this photograph is in the care of Elizabeth Friederich who has kindly provided this image.

Bob & Elizabeth [friederich-at-grapevine.net.au]

The reverse side of the photo

John Hoare

Photo contributed by Judy Richards [Judy.Richards-at-westnet.com.au]


Amelia Ann Rixon and John Sweetman
Photo contributed by Judy Richards [Judy.Richards-at-westnet.com.au]
Ann Phibb's grave nee Dunlaghan nee Rixon nee Hoare
Photo contributed by Joye Walsh [joye_walsh-at-yahoo.com] 15.04.10

The gravesite of John Hoare and Elizabeth Waite

Photo contributed by Judy Richards [Judy.Richards-at-westnet.com.au]
| | |
| --- | --- |
| | |
| Andrew Hoare and Jessie Finlayson | Jessie Hoare nee Finlayson aged 81 |
| | |
| | |
| The Argus, Saturday 14 August 1915 | |
Photos and newspaper clippings contributed by Judy Richards [Judy.Richards-at-westnet.com.au]
---
| | |
| --- | --- |
| | |
| Martha Malvinia Matilda Gill nee Love | Thomas George Gill |
The above two photos were supplied by Bev Johnston [bevdon46-at-bigpond.com]
---
The following photos were supplied by June Love [bluehyacinth-at-bigpond.com] 8.08.11
Kenneth Arthur Roland, Charles Milton, and
Clifford John Love "At Grandma's Hotel Bingara 1916".

[Believed to be cousin Joyce Estelle Williams],
Clifford John Love, Kenneth Arthur Roland Love.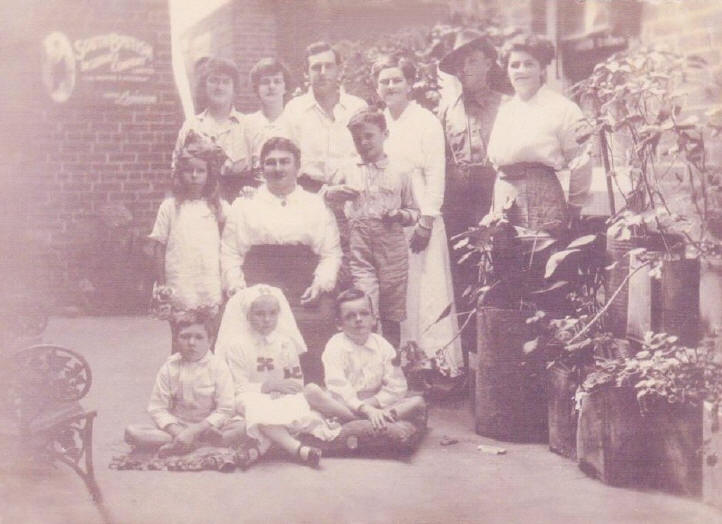 The three "Love" children - again taken at the same hotel at Bingara slightly earlier. Their mother Margaret nee Carmody is at far right. I think cousin Joyce Estelle Williams is to left of the grandmother. The other female child I take to be a sister of Joyce Estelle. The grandmother (nee Amelia Hogg m. William Carmody) is in the centre. Her five surviving (out of 8) children surround her. One male in the slouch hat is unidentified (maybe Mr Williams)
thus - (l-r) Amelia Bertha, Mabel, Herbert Rowland, Sarah Priscilla, (unidentified male), Margaret (nicknamed 'Pidge').
---
23.12.10
Hello Ian
Have been reading through the excellent pioneer site re John Love and would be grateful if you could please add a link to my book Murder. Mayhem & Misdemeanours : Early settlers at the Cowpasture River 1810 -1830; as this contains biographies and stories of the Love, Hoare and Seymour families, and should be of interest to many of the decendants. As the book was first published in 2002, it is probably the source of some of the research on your site. As a descendant of Mary Higgins and Thomas Seymour from their son George, I share common ancestors with many of the Love, Hoare and Seymour families.
https://sites.google.com/site/acolonialheritage/
Marion Starr [twinks-at-ozemail.com.au]
---
Descendants of John Love





Ian Harvey <iansharvey-at-bigpond.com> 4.11.06, 28.11.06, 9.03.07


Recompiled from the new Monaro Pioneers database:

3.01.08
with additional information supplied by:
Paul Simmonds [simmopa-at-iprimus.com.au] 30.12.07
Elizabeth Gill [elizgill-at-melbpc.org.au] 11.03.08, 16.03.08, 30.06.08
Karen [axlkaren-at-optusnet.com.au] 2.06.08
June Love [bluehyacinth-at-bigpond.com] 12.06.08
Carolyn Stanford [stan-at-hwy.com.au] 27.07.08
Bev Johnston [bevdon46-at-bigpond.com] 2.01.09
Lyle & Margaret Cooper <landmdcooper-at-optusnet.com.au> 2.06.09
John Iverson <jiv81167-at-bigpond.net.au> 12.06.09

Joyce Morgan <jmorgan-at-bravo.net.au> 24.07.09

Judy Richards [Judy.Richards-at-westnet.com.au] 9.11.08, 15.11.08, 18.08.09, 21.01.10, 26.01.10, 15.03.10, 27.05.10, 1.07.11
Ron Pentecost [rondazz-at-exemail.com.au] 12.02.10